100% green power at festivals: e-power®'s hydrogen generator as part of the GEM-Stage at the Pohoda Festival in Slovakia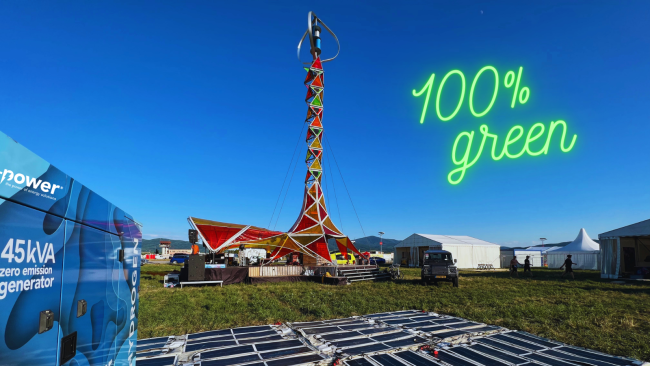 e-power® demonstrates the potential of green energy in the live entertainment industry. For years, festivals and events relied on fossil fuel generators. This is about to change!
The GEM-Stage is an innovative festival concept full of new energy sources, such as sun, wind and hydrogen, combined with smart batteries. This way, artists can play on a stage that produces 100% of its own green energy. Besides being a full functioning stage, the GEM-Stage can also be a popular hang-out as a festival-upgrading element (e.g., as a rolling kitchen, cooling lounge, radio studio, etc.).
H2 to the rescue
Where traditionally the weakness of intermittent energy sources (e.g., wind energy, solar energy) was invoked to provide a grid connection or install diesel generators, e-power®'s H2-generator provides the last missing piece of the green puzzle: a reliable backup.
By connecting e-power®'s hydrogen generator, the GEM-Stage can overcome any 'dunkelflaute' without a care in the world (= a period in which little or no energy can be generated by means of wind and sunlight), and that completely zero emission!
The H2-generator charges the battery of the GEM-stage, this way it can be guaranteed that the supplied electric energy is completely green over all consecutive festival days.
No more excuses. Festivals can choose for 100% green energy with peace of mind.